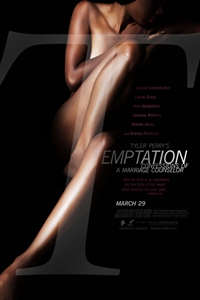 Tyler Perry's Temptation
1 hr. 51 mins.
Starring: Jurnee Smollett-Bell, Lance Gross
Director: Tyler Perry
Rated: PG-13
An explosive romance about the seductive dangers of the forbidden, this film tells the provocative and sensual story of Judith, an ambitious married woman whose obsessive passion for a handsome billionaire leads to betrayal, danger and a choice that will forever alter the course of her life.